Pioneered by the French physician Dr. Michel Pistor in 1952, Mesotherapy is a minimally invasive procedure that is widely used in Europe and elsewhere to treat various injuries, aesthetic concerns, skin and body concerns and medical conditions. Tiny "medicinal bullets" are delivered directly into the mesoderm (middle layer of skin) by micro injections that are highly specific to the condition being treated. By definition any medication injected into the skin, fat or tissues of Mesoderm (middle layer of skin) is considered Mesotherapy. Using this technique, active ingredients that are highly beneficial to the skin can be directly injected into the areas they are most needed. Similarly, active ingredients that are able to break down fat and cellulite can be injected directly to the problem area by means of mesotherapy.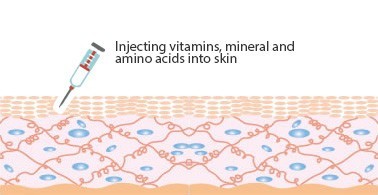 What is Mesotherapy?

Mesotherapy is a cosmetic non-surgical technique in which tiny microscopic quantities of medical grade pharmaceuticals, vitamins, mineral and amino acids are injected into the upper and middle skin layers for treating different kinds of problems. It is among the top aesthetic medicines for skin rejuvenation. It helps you to treat both body and face. Injections are given into mesoderm, a layer of fat and tissue underneath the skin.
Results: Although liposuction is a method of removing unwanted fat deposit of body yet fact is that this method is painful leave scar. The people who await well-toned body and shape without pain and scarring give a due preference to Mesotherapy. People are able to see results within a month. They need to maintain cellutite results through proper exercise and healthy diet plan. In simple words, you are able to get desirable body contour and look through Mesotherapy.

Mesotherapy as a Perfect Anti-aging Medicine



When we age then signs of aging start appearing on face and neck. Mesotherapy helps us to restore our aesthetic face and neck appearance. Skin loses its elasticity and it tends to loose due to effects to gravity on it. Breakdown of collagen also fades the vital and glowing look of skin. Neck muscles also get loose and its skin start drooping. We cant stop aging process but Mesotherapy allows us to reverse this process.
In this method, doctors gives injections comprises of vitamin and trace minerals. These components activates skin metabolism, so growth of collage begins again. You are able to get healthy skin that radiates energy and vitality. Result of this procedure is quite dramatic. Best of all, this treatment has a little downtime. You may feel bruising, nodular, and swelling just after the treatment but everything normalizes within 2 days.
People notice good improvements in their facial appearance after 1-2 sessions. They look younger and fresher than before. Results are quite natural, your friend will not notice that you have undergone through any treatment. If a person wants to see the most remarkable results that he needs to go for more sessions. Results of treament are parmanent but one should know that aging process can't be stopped. Therefore, it's advisable to undergo through maintenance session for restoring aethetical body and skin look.
Cost of Mesotherapy
We are offering reasonable rates for Mesotherapy. Cost normally depends on area that needs treatment and number of sessions required to gain positive results. Cost can run anywhere from 300-600 depending on the area worked, and may need more than one treatment to meet your needs. We welcome you at Allcare where experienced doctors are ready to address your concerns in a way that you always want.
Side Effects:

Lipodissolve risks are suprisingly minimal for a procedure that offers such impressive benefits. Some side effects can occur, but in a vast majority of cases they are minimal and temporary. Within the first few hours of undergoing treatment, a minority of patients experience dizziness. fever. sweating. or fainting. Some short term side effects at the injection sites may include mild swelling, bruising, itching, and general discomfort in the area that was treated. These symptoms can last up to 3 days following treatment. You may also experience mild , intermittent diarrhea as your body converts the broken down fatty structures into waste products. Some women may report the occurrence of intermenstrual bleeding as a results of hormones secreted by the broken down fat cells. Lipodissolve risks are greater for anyone who has undergone surgery in the 6 weeks prior to treatment.

Lipodissolve is not recommended with anyone with HIV, Hepatitis, active cancer, liver disease, kidney disease, bleeding disorder, Diabetes, Pregnant, or nursing.

Some patients who have undergone lipodissolve report feeling lumps deep under the skin. Described as being similar to calcium deposits, these nodules under the skin might be slightly tender. However, they are a common (and temporary) result of lipodissolve. The lumps develop as the fat is dissolved and dissipate soon after the body has completed the process of filtering out the remaining fat in the treated area
Background:

Treatments most properly called "injection lipolysis" have been commonly associated with the term "mesotherapy" to reduce or eliminate unwanted local accumulations of fat. Various terms for treatments that purport to "dissolve" fat seem to be used interchangeably, although "mesotherapy" has gained prominence in the public vernacular.
Injection lipolysis is typically done with trade-named products such as Lipodissolve™ and Lipostabil™ or with proprietary formulations provided by compounding pharmacies. The one common ingredient in all injection lipolysis formulations is phosphatidylcholine (PPC).
In the United States, sodium deoxycholate (DC), a constituent of bile, is a second major ingredient used to keep the PPC soluble and in an injectable form without precipitating out of solution.
Phosphatidylcholine (PPC) and sodium deoxycholate (DC) are both phospholipids, emulsifiers, and surfactants. PPC is the most abundant phospholipid component of cell membranes, a precursor to acetylcholine, and a constituent of lipoproteins. DC is a constituent of bile. Both substances are naturally present in the human body.
In contrast to injections into the mesoderm, injection lipolysis treatments are delivered into the subcutaneous fat. In both cases, the depth of injection is critical to prevent damage to fascia. It has been hypothesized that treatment with PPC and DC reduces subcutaneous fat by adipocyte necrosis due to direct toxic or surfactant effects.
Phosphatidylcholine (PPC) and sodium deoxycholate (DC) are both approved by the U.S. Food and Drug Administration (FDA) for use as surfactants and drug carriers, among other applications, but neither is approved for subcutaneous injection. Lipodissolve™ and Lipostabil™ are not approved by the FDA.
Proprietary formulations of PPC / DC and other drugs have been manufactured by compounding pharmacies, yet such formulations lack standardization in terms of good manufacturing practices and sterility.
The FDA is well aware that injections to reduce fat deposits are performed, but the agency thus far has not exercised its enforcement power to restrict the use of compounded PPC / DC.
Safety and Efficacy of Injection Lipolysis
To date, reports on the safety and efficacy of injection lipolysis have been anecdotal. Any clinical study involving subcutaneous injection of these drugs requires FDA approval of an investigational new drug (IND) application plus IRB approval.

Reports of adverse events, including mycobacterium skin infections have been reported following the injection of compounded preparations for injection lipolysis.
Lipodissolve is a non-invasive treatment, and there has been no record of permanent or life-threatening side effects since the procedure began being offered in Italy in the 1980s. An unqualified doctor is more likely to achieve no positive results than he or she is to actually cause harm, but it is always best to take precautions. Unlike cosmetic surgical procedures such as liposuction or tummy tucks, lipodissolve seldom requires that any conscientious preparation be done by the patient in the weeks leading up to the treatment. Patients are advised to hydrate themselves on the day of the procedure to decrease the likelihood that bruising will occur at the injection sites.


Recommendations Regarding Injection Lipolysis
Patients must be informed that this procedure uses compounded drugs that are not approved by the FDA for injection.
The use of a PPC/DC combination is permitted in the context of a clinical trial operating under a FDA-approved IND (investigational new drug) study protocol.
Physicians may order individualized prescriptions from a compounding pharmacy designed for a specific patient for the purpose of injection lipolysis. "Bulk" purchases of the compounded drugs will not be possible. There is the risk of FDA investigation and sanctions involving compounded drugs that are not approved by the FDA.